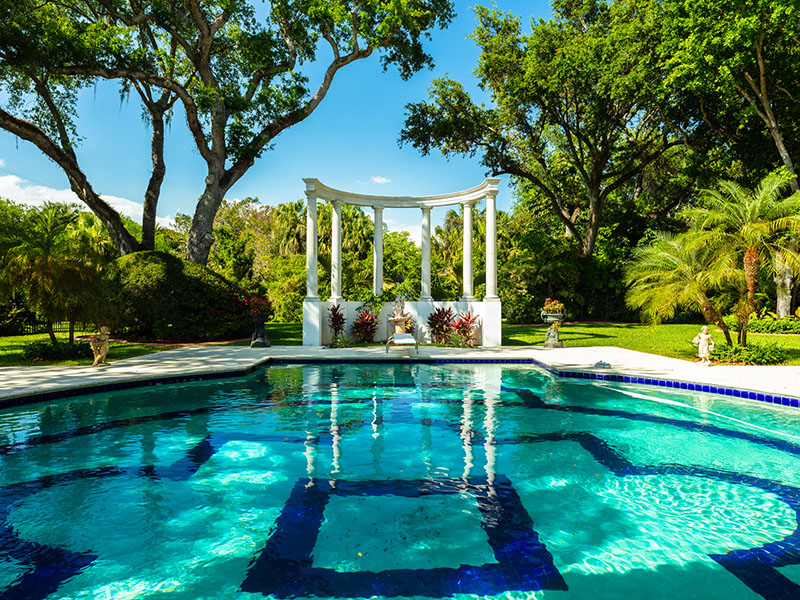 Cocoplum is an exclusive gated community in Coral Gables, Florida known for its luxury real estate, a full-service private marina, and secure streets. It was originally built as a beach for the denizens of Coral Gable. Real estate developer George Merrick bought the bayfront property from the Deering family in 1925.
In the 1970s, this locale was redeveloped into an upscale, single-family home community. Of the 302 homes in Cocoplum, 172 or more than half are located on the waterfront. Tahiti Beach, which is also part of Cocoplum, is home to 29 large waterfront properties.
Cocoplum consists of Cocoplum Phase 1, Cocoplum Phase 2, Tahiti Beach, and the Cocoplum Yacht Club. Cocoplum Phase 1 has around 140 homes east of the Old Cutler Road. Cocoplum Phase 2 is larger than Cocoplum Phase 1. It hosts 300 homes, including 29 found on Tahiti Beach.
Cocoplum has become a top community for Miami's elite. Aside from the yacht club, its other amenities include a clubhouse, fitness facilities, tennis courts, and 24-hour security.
Aside from its waterfront homes, Cocoplum's stunning tree-lined streets include houses built on hills, a rare feature in South Florida neighborhoods.
Before owning a piece of Cocoplum property, you must first pay a non-refundable $35,000 application fee. An additional $100,000 application fee is required if you want to live in Tahiti Beach. Each area also has quarterly assessments.
Homes for sale in Cocoplum, Florida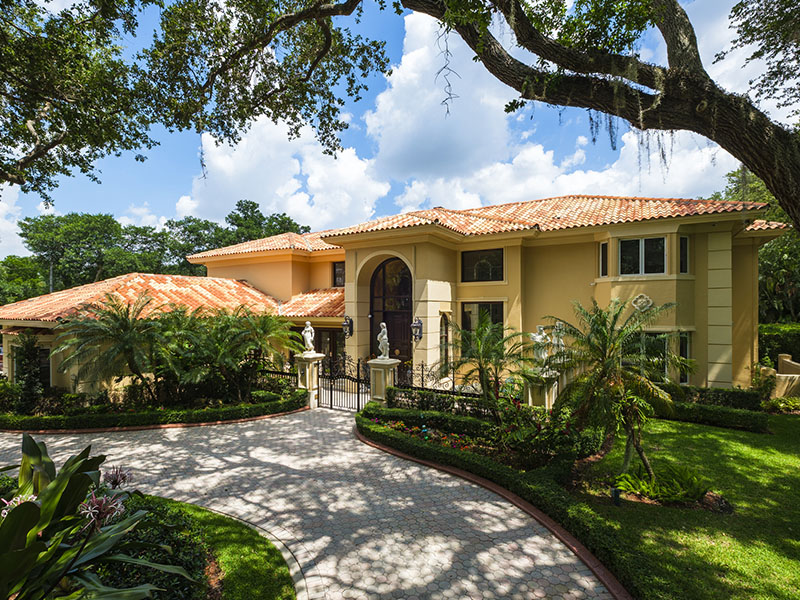 Even if you can afford it, you should have a local Realtor with a well-established network to find you Cocoplum houses for sale. While Redfin reports that  houses sell for around 5% below their list price on average, it's worth noting that the median listing home price in Cocoplum was $7.8 million in August 2022, according to Realtor.com. For monthly updates on the Cocoplum housing market, check this page.
Types of properties
All Cocoplum houses for sale are high-end single-family homes. Bedrooms are from 3 to 8, while bathrooms number 3 to 10.5. Home sizes are from 2,800 to 12,000 square feet, with lots ranging from 12,000 to 46,000 square feet.
Architectural styles
Cocoplum houses come in a variety of styles, from Mediterranean to Contemporary. Many homes also feature gorgeous tropical gardens and walkways. The waterfront properties have private boat docks for quick access to the stunning Biscayne Bay.
Living in Cocoplum, FL
Cocoplum can be found in Miami-Dade County, close to the communities of Gable Estates, Coconut Grove, and Journey's End. It takes just 20 minutes to get to the Miami International Airport. Both the Miami Design District and Miami Beach are 25 minutes away.
Although there aren't any elementary schools in Cocoplum itself, there are public elementary, middle school, and high schools nearby. There are 10 other private schools, including: the Ransom Everglades School, which accepts, grades 6 to 12; the all-girl Our Lady of Lourdes Academy high school; and the all-girl Carrollton School of the Sacred Heart, which accepts students from pre-kindergarten to grade 12. The University of Miami is just a five-minute drive from Cocoplum.
As Cocoplum is located near the water, around 380 or 88% of its homes are at risk for flooding, according to Redfin. However, flood risk in this area is rising slower than the national average. In 2022, floods in Cocoplum led to an average of $1,264 in property damage.
Fire risk in Cocoplum is very low and drought risk is just as low. Storm risk is moderate, but the heat risk in Cocoplum is above average, as it's located in sunny Florida. Best buy: a well-ventilated house with a central air conditioning system.
Things to do in Cocoplum, FL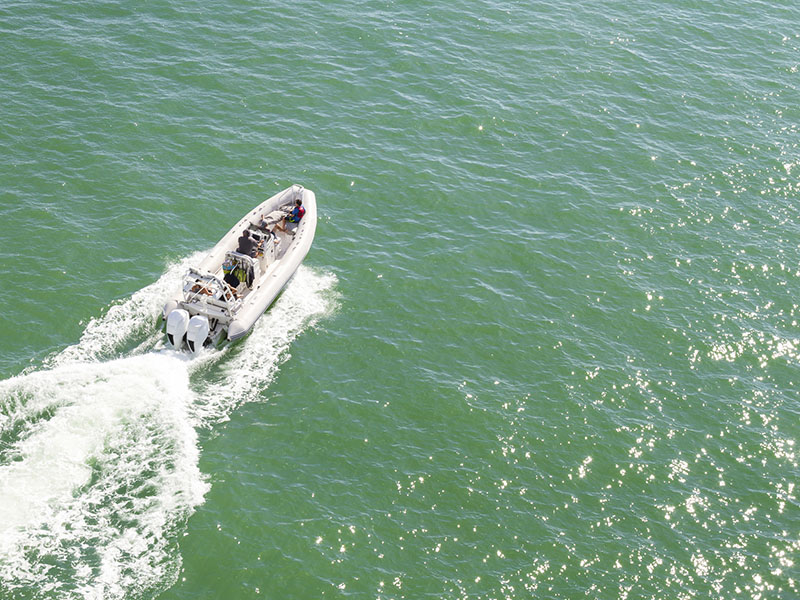 Boating
Cocoplum is a boat lover's dream. Residents can buy a slip for their boat or yacht from the Cocoplum Yacht Club. Docs and T-slips span 40 to 120 feet and provide direct access to Biscayne Bay. The Cocoplum marina is protected from Biscayne Bay and is known as one of the premier marinas in South Florida.
Dining
There are a number of great restaurants in and near Cocoplum:
Talavera Cocina Mexicana is famous for its fish tacos, grilled octopus, and guacamole, best paired with tequila or a margarita. Talavera has over 300 tequilas and mezcales. They also have a cherry wood grill that imparts additional flavor to their meat, fish, and seafood.
Seasons 52 is a contemporary American restaurant that is also vegetarian friendly. Come for their lump crab cake, caramelized grilled sea scallops, and wood-grilled Kona-crusted lamb loin. Wash it down with wine from an extensive selection that includes a number of cabernets, wine from Italy, Spain, and Portugal, and featured California wines.
Whisk Gourmet answers your search for a satisfying sandwich. Your options include the Whisk gourmet burrito, BBQ brisket sandwich, and adobo-marinated chicken sandwich. Some sandwiches like the tuna melt and turkey & brie sandwich are only available until 5 p.m. so drop by early if you want to order them. For entrees,  the gluten-free grilled bone-in pork chop and bourbon & brown sugar-seared salmon are must-tries.
The YardHouse is an American pub that also serves Asian food and features a wide variety of beer, with over 100 taps. Diners rave about the tomato bisque and truffle fries. When it comes to main dishes, you can't go wrong with the jambalaya, Mediterranean salmon, or tuna poke bowl.
Tap 42 is a craft beer bar and gastropub. It's a favorite spot for young professionals, who love its calamari, tostones, and Miami spice. Popular on the menu are the drunken goat burger, shrimp cocktail, and chicken avocado salad. If you sit indoors, enjoy the loud, thumping music.
Shopping
Shoppers rejoice. There are a number of excellent shopping locations near Cocoplum.
Dadeland Mall.For well-known department stores like Macy's, Saks Fifth Avenue, and JCPenney, head to Dadeland Mall in Kendall, Florida. It covers more than 1.4 million square feet housing more than 185 stores and restaurants, including a 102,000-square-foot Fashion Wing featuring stores representing the biggest brands in the world. The mall features an Apple Store and the AC Hotel Miami Dadeland, which opened in 2021.
Merrick Park.With great restaurants such as Havana Harry's, Caffe Vialetto, and Villafi, as well as being the home of Miami's first Nordstrom, Merrick Park has a total of 90 stores including Neiman Marcus and Gucci. It's also a fantastic place for people watching.
Miracle Mile.The half-mile section of Coral Way between LeJeune Road and Douglas Road has a reputation for being a premier shopping district. It has many excellent shops and boutiques, restaurants, art galleries, and even a live theater, all nestled among tree-lined streets. Miracle Mile is famous for its outdoor dining featuring renowned restaurants that offer global cuisine and stay open late in the evening.
Coco Walk. The urban village located in the middle of Coconut Grove features great restaurants and sophisticated boutiques geared to an affluent clientele. In addition, it features over 100,000 square feet of creative office space. People come to Coco Walk if they want to hang out and chill.
Sunset Place.A vibrant, open-air shopping destination with high-tech entertainment and diverse restaurants, Sunset Place is very family friendly. It's got a bowling alley and a mega-arcade that has over 165 video games. Spend the afternoon browsing at Barnes and Noble. Or chance upon ongoing model shoots by a local Florida modeling agency.
South Miami. Also known as SoMi, South Miami is located on Sunset Drive. It consists of a number of small boutiques and restaurants. Boom Shanti sells Moroccan and Indian clothing while Blush Boutique is always abreast of the latest trends for women.
Destinations
From golf courses to state parks, mangrove islands to the local farmers' market, Cocoplum boasts an array of destinations and activities to suit diverse interests.
Coral Gables Farmers Market. Located next to City Hall, the Coral Gables Farmers Market takes place every Saturday from January to March. Here, local vendors sell fresh produce, juices, honey, food, plants, and artisanal spice and tea. There's a conch fritter shack, made-to-order meals from local restaurants, desserts like pudding from small businesses, and Jamaican coffee to wash it all down.
Fairchild Tropical Garden. This botanic garden sprawls across 83 acres and features over 3,000 types of tropical plants. Aquatic exhibits like the Fountain Court Pool have several varieties of water lilies. Elsewhere, the Tropical Flowering Tree Arboretum occupies 12 acres filled with over 700 species of tropical flowering trees. Partial to blooms? Head to the Geiger Tropical Flower Garden. The Fairchild Tropical Garden is open every day from 10 a.m. to 5 p.m. and on all holidays except on Christmas.
Riviera Country Club. Also called "The Friendly Club," the Riviera Country is an 18-hole, par-71 course known for its relaxed atmosphere. This club was established in 1953 and is located on Ormond Beach. It also features a driving range and a chipping and putting area.
Pinecrest Gardens. Located near Pinecrest Village, Pinecrest Gardens is home to over 1,000 varieties of rare and exotic palm trees and tropical plants, as well as native tropical hardwoods like calabash trees. The place hosts live events such as the South Motor Jazz series, children's concerts and theater, and classical and pop music concerts. It's popular as well for weddings. However, Pinecrest Gardens offers so much more: adult education programs, a venue for the monthly meetings of the Bonsai Society and Pan Am Orchid Society, family and youth programs, music mentorship, and school and group programs.
Deering Estate. A state-protected park that spans more than 444 acres of coastal Miami, the Deering Estate offers canoe tours and bird walks, kayaking by the light of the moon,  eco-tours, and hiking the many nature trails.
Every second Wednesday of the month, the Deering Estate features a night hike and campfire where guests can observe the nocturnal wildlife in the woods and nosh on some s'mores.
On full moon nights from October to May, join the Moonlight Kayak Tour, which heads to Chicken Key, a seven-acre mangrove island and bird rookery. This activity is open to intermediate paddlers over the age of 18.
The Deering Estate is open daily from 10 a.m. to 5 p.m. except Thanksgiving and Christmas. Aside from the scheduled activities, no one is allowed to enter the park after 4 p.m. Free parking is available.
Points of interest in and around Cocoplum, FL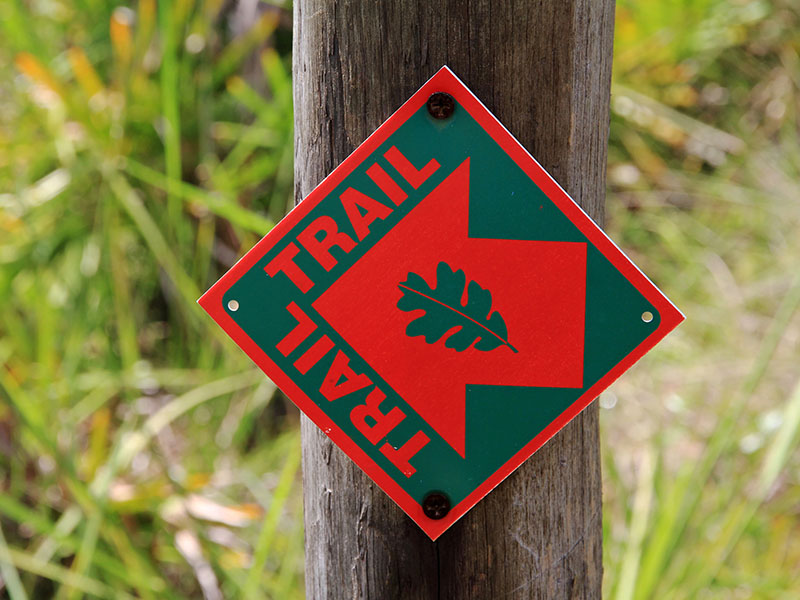 7 minutes away • Old Cutler Trail
The Old Cutler Trail spans 13.5 miles and winds through some of the most scenic neighborhoods in the greater Miami area. Bask under the stunning ficus trees and banyans. The northern trailhead starts at the traffic circle where Old Cutler Road, Sunset Road, and LeJune Road in Coral Gables meet. In the south the trail ends at the junction of SW 87th Avenue and Old Cutler Road in Cutler Bay. From here, you can continue along the Biscayne Trail, which is an additional 2.7 miles.
Much of the Old Cutler Trail contains tree roots, but this won't deter people who are out to enjoy their walk. Popular stops in this route include the Fairchild Tropical Garden, Matheson Hammock Park, and Pinecrest Gardens. Parking is available at Cocoplum Circle or at Matheson Hammock Park.
31 minutes away • Ocean Drive
If you're an Art Deco aficionado, head to Ocean Drive, a beautiful historic area filled with Art Deco hotels and a lovely beach view. This area is dotted with restaurants, making it a great place to hang out once the sun goes down. You can also find the famous Casa Casuarina on Ocean Drive.  Casa Casuarina is where the late Italian fashion designer Gianni Versace once lived. It has now been sold and turned into a boutique hotel. Due to its looks and pedigree, Casa Casuarina is one of the most photographed houses in North America.
Work with Anamaria Velasquez to find the best Cocoplum houses for sale
With over 10 years of experience, Anamaria Velasquez is the best guide to finding the right Cocoplum houses for sale. If you want to move to Coral Gables, Pinecrest, or Coconut Grove in Florida, Anamaria can help you zero in on the property that best matches your needs and preferences.
It's important to hire a local real estate agent because their knowledge of the neighborhood is unparalleled. Their expertise and extensive network mean that they are equipped with the tools to get you the best deal possible.
You'll benefit as well from personalized service along with the inside track on the community amenities that are most important to you, such as schools, shops, services, and more.  With their reputation riding on the trust of the community they're in, a local real estate agent will always have their client's best interests in mind.
Anamaria is one such local real estate professional. Her reliability and personalized service have been proven time and again. In fact, she is the chosen real estate agent of several celebrities and is eminently qualified to provide the guidance you need when it comes to buying property in Cocoplum, FL. If you're looking for a boutique firm with a trustworthy real estate broker, look no further than Anamaria Velasquez.
Don't hesitate. Give Anamaria a call today at 786.210.3562 or contact her here.